If you read my previous post titled "
I remember
" then you know Mason turned 3 on Sunday.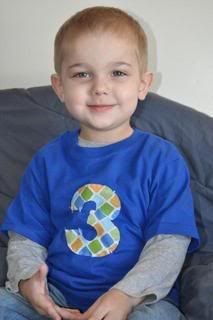 My baby boy is growing up. Talking in full sentences and sometimes smarter than Mommy and Daddy. He has been fully potty trained for a month now. He continued his annual tradition of getting sick 2 weeks prior to his birthday and
just
being better for his actual birthday.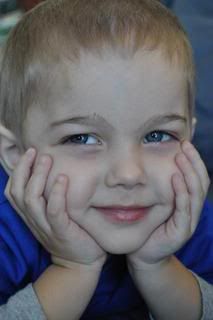 I remember writing
this post
about how difficult I thought potty training was going to be. Well, my amazing son took us all by surprise. He was obviously more than ready. He had 2 accidents that first day, both at my parents house, and I think those only occurred because he was too busy playing. Pooping took about a week to get down, at first he asked for a pull up/diaper to go in, and I let him because of all of his stomach issues, but after a few days of that he got the hang of it and we haven't had any accidents with either since! He is unfortunately still terrified of public restrooms so for now he has a potty in the back of my van, and we've had no issues when we go out.
He ended up having 2 small parties. As we don't have a house yet our apartment is too small to hold both families. So we have a party with Jere's family and then one with mine. He ended up with a John Deere party (his choice) and a Mickey Mouse party (that was a surprise to him).
His John Deere party was actually on his birthday Sunday. He was spoiled with too many toys (as always) but he had a blast.
He said he wanted Mommy to make him a John Deere cake so that's what I did!
Ready to blow out the candles.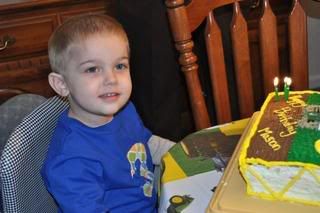 Opening presents..he loves Imaginext!
And then on Monday we had his Mickey Mouse party.
Cake my Grandmother made.
Being silly.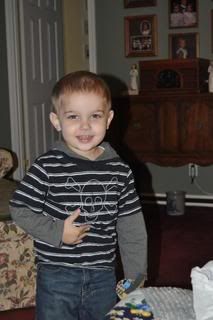 This kid amazes me everyday, from things he says, to how polite and nice he can be, to what a great big brother he is. We are so blessed to have this guy in our life.
Mason, my first born, the one who taught me how to love so completely. I love you kiddo..best friends.
You're so amazing you shine like the stars
You're so amazing the beauty you are
You came blazing right into my heart
You're so amazing you are...
You are
Song by Janelle..scroll all the way to the bottom of my blog to hear it. This song is dedicated to my 2 beautiful gifts from God.